Getting Equipped for Rendezvous
It has been said, that other than your clothing, the only piece of equipment you really need at Rendezvous is a tin cup. Other folks might throw a plate or spoon in there, but the point is well made. The best way to build-up equipment is slowly, and the type of equipment you buy is wholly dependent on the time period you are trying to emulate.
But, all that aside, it is great fun to acquire new items for Rendezvous, and anything you decide you don't like can always be put out on the trade blanket and traded away for new stuff.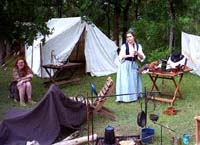 Some good things to start out with are:
A tin cup
A tin plate or bowl (wood is also ok, if it is period correct)
A spoon or fork
A wool blanket – A wool blanket is the best period-correct sleeping item that one can have, but before buying an expensive Whitney blanket, try a less-expensive surplus blanket. Most are ok, provided they are a solid color (grey, white, red, blue, but never OD green).
Some would also add a belt knife or possibles bag to the list, but it is really better to go to your first Rendezvous with a minimum amount of equipment, taking time to talk to other 'skinners before going out and purchasing anything too expensive. Like any hobby everyone has praise or horror stories about the different equipment that is available. Listen to what other people suggest, try out their gear, and go from there.
At your first event, you might want to pick-up your own flint and steel kit – it is a core part of the mountain man existence. There are many different styles of striker available and they are always available at Rendezvous. It is never too early to start practicing starting fires with flint and steel.
For a great list of equipment resources, check out http://georgiarefugees.tripod.com/BlankPage2.htm
Here are some great places to acquire some initial pieces of equipment:
Wooden Hawk Trading Co. – http://www.woodenhawk.com
Crazy Crow Trading Post – http://www.crazycrow.com
Jas. Townsend and Son, Inc. – http://jastown.com/
Panther Primitives – http://www.pantherprimitives.com
The Texas Sutler – http://www.texassutler.com/shop/
If you are interested in Texas revolution events, check out the Texian Guide Book.
On to the next topic – Blackpowder weapons