The Lodge
The lodge is the mountain man's home away from home. Many different types of lodges exist, each one representing different historical periods and having different features and benefits. There are also cost differences between the different style lodges, as well. For example, the tipi (or tee-pee), one of the most common shelters, is quite an investment – sometimes costing as much as $2000.
Most lodges are made from canvas cloth, though some can be made from natural materials, including animal skins. Nylon and other post-1840s materials are strictly forbidden at Rendezvous.
The following is a list of different shelters, though this in no way represents the limits of appropriate shelters.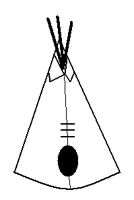 Tipi – Quite possibly the mountain man's castle, the tipi is one of the most obvious examples of technology borrowed from the Native Americans. Having a space for a fire in the middle of the shelter, the design of the tipi draws the smoke out of the shelter via a vacuum created by air passing across the top opening. Tipis make wonderful cold weather and long-term shelters.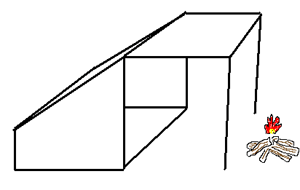 Baker – Once deemed historically inaccurate, the Baker tent has recently been reconsidered as historically correct for the Western Fur Trade (c. pre-1840). It is an open-front tent that allows the sleeper to be warmed by a fire placed in front of the shelter. The eave can also be brought down in case of inclimate weather.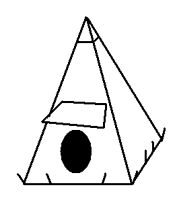 Pyramid tent – Though not truly historically accurate for the time period, the simplicity of design for the pyramid tent has made it a popular item at many Rendezvous. Though the design was probably not created until the California gold rush (c. 1850), it is nonetheless a good design that works great in inclimate weather.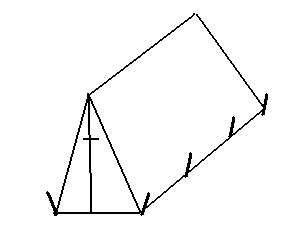 Wedge tent – Used throughout most of history, the wedge tent is a simple design that has been the favorite of soldiers and trappers alike. It is a simple design and is one of the least-expensive closed shelters one can buy.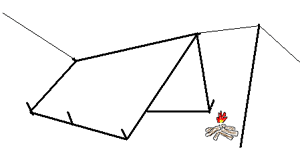 Diamond shelter – For minimalists, the diamond shelter is a great choice. It is essentially a tarp strung between two points and staked down, with a central pole to keep the roof aloft. It makes a cozy, well-ventilated shelter that is great for warm temperatures.
It is not necessary to have your own lodge at your first Rendezvous. Like other items, check out the different options before making your choice. When entering another 'skinner's lodge, you annouce your presence by saying, "Hello the lodge!" You will then be welcomed into the tent or shelter.
Here are some links to a few lodge merchants:
Don Strinz Tipi – http://www.strinz.com/tipi/
Tentsmiths – http://tentsmiths.com/
On to the next topic – Recommended Reading