Ranger Springs Skinners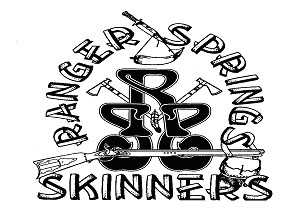 Ranger Springs Skinners is a small group of buckskinners dedicated to good fellowship and having fun while re-enacting the fur trade era. We have two rendezvous a year – the Fall Rendezvous is the weekend before Thanksgiving, and the Spring is the first Friday in March. We do have competitions with prizes awarded on Saturday night, and for the most part our competitions are fairly informal and relaxed. We welcome people new to the hobby of re-enacting.
Our rendezvous are closed to the general public – you must be in period dress to attend. If you will contact us, we will do our best to help you! Sunday mornings are open to the public, but we generally start packing up early. So while you can talk to us and see some things on Sunday, don't expect to come into a historically accurate camp on Sunday. Most of us have long drives to get back to 'the real world', so plan to visit before 10:00. We meet near Decatur, Texas.
Contact Information
David "Red Otter" Green – President
817-247-4061
redottergreen@sbcglobal.net
Gayle "Sunshine" Harris – Secretary
catwings.gh@gmail.com